A great community asset – Sax Music Fest!
Friday, February 8th, 2019 7:32 pm
One of Saxmundham's strengths has been its strong community life – even if that has maybe slipped back a bit as the town has grown rapidly in recent years.  One of the purposes of drawing up a Neighbourhood Plan is to try to help strengthen that "community cohesion" by getting a more united or consensus view (we hope!) on what sort of future we are trying to build for our town. 
And local people seem to agree (86%) on the value of the Music Fest's contribution: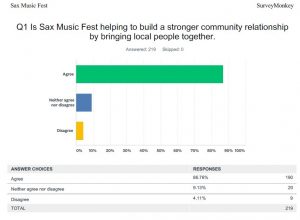 The annual Sax Music Fest, a two day high-summer get together, has been one of the mainstays in our community life.  It brings together – year by year more local people (and others from all around) than any other local event.  Good music and good organisation have gone together hand in hand!  Having started out under the umbrella of the Brook Farm Residents Association (BFRA) it is now run by a separate, relatively new community interest (not for profit) company, known as SMART CIC – which makes it easier for its dedicated team of volunteers to deal with contracts and grants etc.  Its mission:
"Our purpose is to create local music, workshops, arts fringe events and an annual festival (Sax Music Fest) with strong local involvement designed to benefit residents and businesses, as a result we aim to build a stronger sense of community within Saxmundham and its outlying villages."
The 2018 Festival had a great line-up – but had really bad luck being struck by the near-hurricane storm which broke the Great Summer Drought in the middle of the Friday night.  Fortunately they were very resilient and the Saturday programme went ahead. We're currently looking forward to learning about the 2019 line-up and precise dates in July.
Meanwhile, the Neighbourhood Plan is almost certain to point out that modern towns need to rely much more – for their future success – on providing entertainment and cultural "services" as well as nice eating and drinking places to attract people in and create a more inviting  environment. So we envisage the Music Fest not only continuing with its successful annual Fest – but also working with others to put on music events in the town centre during the year, as well as fund-raisers like  next Friday's quiz night at the Market Hall.
BACK TO NEWS