For all you Guys and Gals – Friday 9th Nov, 6.30 p.m.- bonfire and fireworks fund-raiser for Adventure Playground
Sunday, October 28th, 2018 10:03 pm
We're happy to give a plug for a good Saxmundham cause – come along to the fund-raising bonfire and fireworks evening in support of  our Adventure Playground who are aiming to buy new equipment.  The event is on Friday 9th November, starting 6.30 p.m., at the Saxmundham Sports Ground, close to the tennis courts… Entrance free.
Here is the poster in mini form: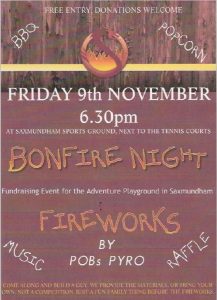 The small print at the foot says:
"Come along and build a Guy. We provide the materials, or bring your own. Not a competition. Just a fun family thing before the fireworks."
And we have taken this info from Facebook:
"This year the people who help run the Saxmundham Adventure Playground are looking to raise funds to replace the 25+ year old climbing frame. This comes at a great cost and to help raise funds there will be a firework display at the Carlton park Caravan Site/Saxmundham Sports Club.

This year will feature a £1600 professional fireworks display with the fireworks kindly donated by the Saxmundham Sports and Recreational Club and the firework display team, who put on a number of local displays including Heveningham Hall, are from Saxmundham so provide free fireworks insurance, free labour and this year are doubling the number of fireworks!

The event is free to attend but all donations and proceeds from the fantastic BBQ and hot drinks all go towards the playground. So this is one event not to miss and you can help the local community whilst enjoying a spectacular fireworks display!"
Hope to see many of you there!
BACK TO NEWS