Neighbourhood Plan – are there major issues for your area that you want us to include?
Monday, February 22nd, 2021 11:41 pm
The Steering Group have reached an important stage in drafting the Saxmundham Neighbourhood Plan (NP).  But before going much further with it, we need your help to check whether we are missing any key issues that are important to our residents or businesses.
So far, we have – in broad terms – agreed to focus in the NP on policies for 5 main "subject" themes, and for 3 main "area-based" themes.
The "subject" themes are: the local economy; housing; transport & movement; community facilities; our environment & sustainability
The main area-related ones are: (a) the Town Centre; (b) the Garden Neighbourhood (assuming it goes ahead); and (c) the station area as a potential development zone.
Are we missing vital issues in your part of town?
What we need to know is whether, in other areas of the town, we are missing any key planning-related issues or policies that you want us to look at.  In the area you live, are there any general issues of – for example – highway planning or traffic control; land that needs regeneration or development; serious eyesores; environmental problems; or areas whose design makes them unsafe…? 
We would be pleased to receive any issues or suggestions by email to saxmundhamplan@gmail.com, or in comments on Facebook to our Saxmundham Town Council or Saxmundham Neighbourhood Plan pages.  If possible, to be sent to us by Monday 15th March.  We would especially welcome hearing from younger residents, whose voice is often under-represented!
It would be great if you could specify which part of town your planning proposal or issue relates to.  We have (mentally!) divided the town into 9 main zones, as follows:
(1) North Entrance area
(2) Hopkins estate & Manor Gardens
(3) South Entrance, Chantry Rd, Town Centre (east of railway),
(4) Fairfield Rd area to Rendham Rd/Albion St (west of railway)
(5) Brook Farm estate north (of brook)
(6) Saxon Road / Henley Close area
(7) Brook Farm estate west
(8) Mayflower & Lincoln Ave estates
(9) Mill Hole / Mill Rise are
Thanks!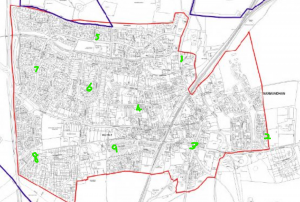 We've put the numbers (hope they are legible!) in green on this map of the town. I hope these are helpful – the areas are of course not exact so if you wish, feel free to give us your own area description.
Once we have completed the first draft in a few months, we will send it out widely for public consultation.
BACK TO NEWS